Just some minutes back Apple CEO Tim Cook Announced the launch of Apple Smartwatch.
With the launch of Apple Smart watch Apple is entering the Smart Wearables segment that already has players like Motorola, Samsung and Pebble. But whenever Apple has got into something you surely know things are going to change. From the Macbooks, Ipods, Iphones to Ipads with every segment that Apple has got into, it has changed the way business is done.
So what should we expect in the coming future.
What changes to expect in Content Marketing, Social Media Marketing, Advertising and everything related.
How will it change the user interaction with digital media.
Lot many questions to be answered.
Highlights of the Event and What Tim Cook said at the launch.
"It's like having a coach on your wrist," Apple chief executive Tim Cook said as he unveiled the keenly awaited Apple Watch.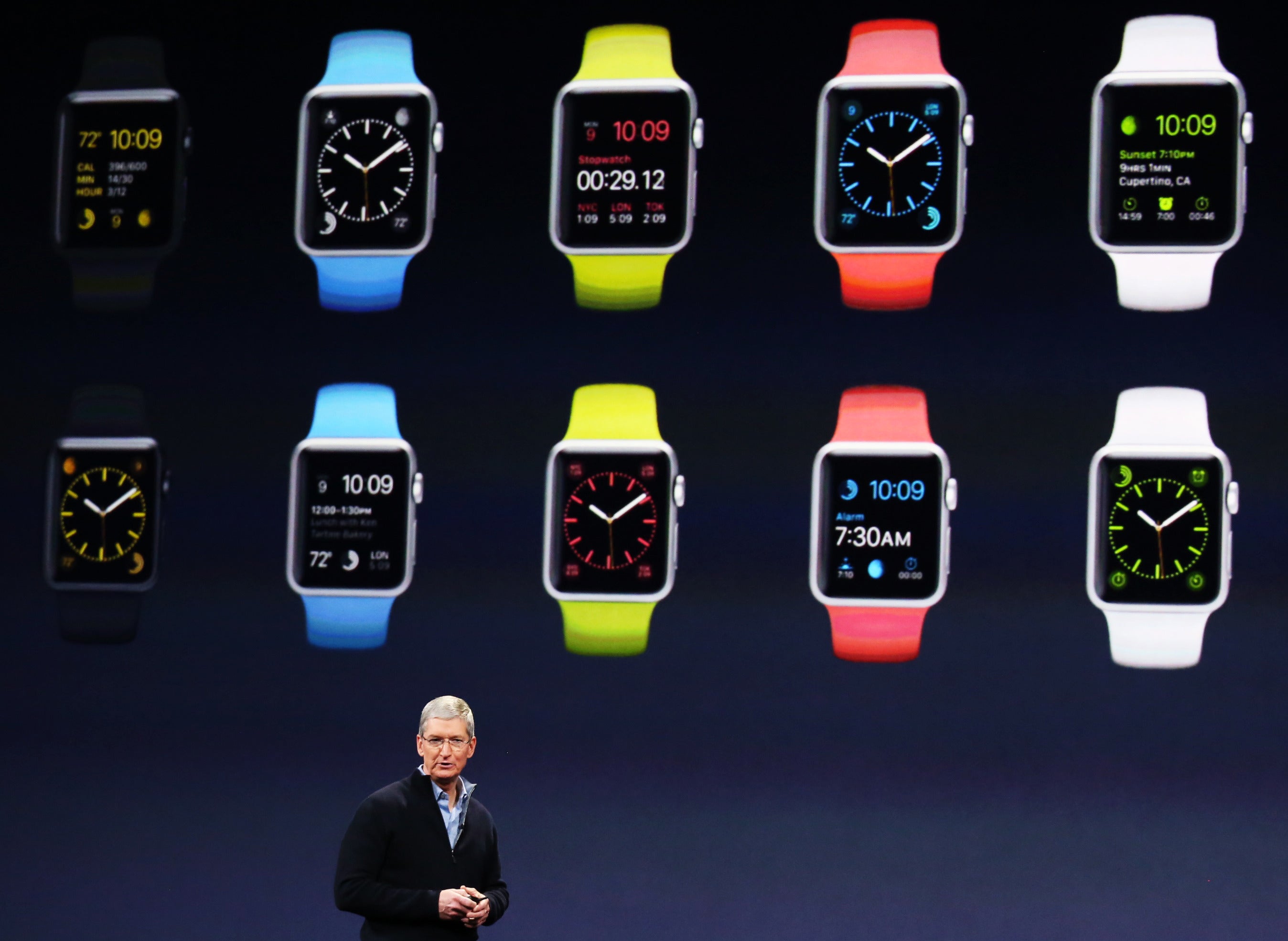 Apple CEO Tim Cook announced the Apple Watch during an Apple special event at the Yerba Buena Center for the Arts on March 9, 2015 in San Francisco, California. Apple Inc. is expected to unveil more details on the much anticipated Apple Watch, the tech giants entry into the rapidly growing wearable technology segment.
Pre-orders will start April 10 for delivery on April 24 in nine countries, Apple said.
Speaking at a media event in San Francisco, Cook said the new smartwatch "is the most personal device we have ever created," and can display a variety of faces ranging from a classic watch to an animated Mickey Mouse.
Connecting to the iPhone, the Apple Watch is designed as a wrist device for messaging and calls and for a variety of health tracking applications.
"With the built-in speaker and microphone you can receive calls on your watch. I have been wanting to do this since I was five years old," Cook said.
"Now it's on your wrist, not in your pocket or your pocketbook," Cook said.
The watch is also integrated with Apple Pay's mobile wallet, and can be used to view pictures and monitor news, and also connect to social media. The watch can use other apps ranging from Uber ride-sharing to music to home automation.
"I think you're going to be surprised at what developers can do when you unleash that community."
Apple demonstrated using the watch to listen to music, with lyrics displayed on the watch face. The company also demonstrated an app to open a garage door from afar to let in a family member who is locked out. Cook added that the Apple Watch "is quickly going to become integral to your day, so we've designed it for all-day battery life," or some 18 hours per day.
Analysts expect Apple to lift the market by integrating the watch with the iPhone and its software ecosystem, and its range of apps and sensors for health and fitness.
Apple said entry price would be $349 in the United States, with costs up to $1,049 for extra features. a special solid gold limited edition will be priced from $10,000.
Why its Important Bloggers
Apple has been leading the technology trends from the days of it's Ipod launch to Iphone to Ipads. It has been changing the way people interact with internet content and that's not gonna stop soon. Every space that Apple has frayed into, the market dynamics change.
With Apple's foray into wearable smart devices, you can expect a whole new world of micro Apps with possibilities of micro advertising and new ways of content delivery as well as new way to monetize content.
Lets get Geared up for the Smart wearables.
With the launch of Apple Smartwatch a whole new window of content marketing and delivery is opening. This will change how people interact with your content.
So what Changes do you expect in the following
Content Marketing
Advertising
Social Media Marketing
Content Monetization
New Opportunities
Lets discuss to get ready with changes to your content strategies, technology, marketing and the way you make money. Lets get the best of the new trend setting up.
Be ready with the changes to your content strategies, technology, marketing and the way you make money. Get the best of the new trend setting up.
Post your Comments on What changes do you expect in the content delivery and marketing segments.
Image courtesy REUTERS/Robert Galbraith,